Red Zone
Russell Wilson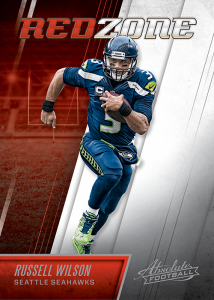 Inside the 20 and what players can you count on? Our newest Gridiron Insert set is Red Zone showcases some of the league's best Red Zone performers. Whether through the air or on the ground, these players are the ones you want with the ball in the Red Zone. There are 10 cards in the Red Zone set. One new card will release every other day. Each Red Zone insert will remain available until the next card releases. Once the new Red Zone card releases the previous one will be retired.
The Red Zone set consists of the following players:
Rob Gronkowski- SOLD OUT
Odell Beckham Jr. – SOLD OUT
Greg Olsen – SOLD OUT
Todd Gurley II – SOLD OUT
Jason Witten – SOLD OUT
Antonio Brown – SOLD OUT
Aaron Rodgers – SOLD OUT – NOT REQUIRED FOR AWARD
Allen Robinson – SOLD OUT
David Johnson – SOLD OUT
Russell Wilson – AVAILABLE NOW
Today's Red Zone Insert is: Russell Wilson
Red Zone inserts can only be found in Red Zone packs. Odds of pulling a Red Zone insert is 1:15 packs. Or you can get the card at the same odds in our VIP All-Access pack with VIP Access.
Collectors that manage to collect all 10 Red Zone inserts by 1pm EST on 11/1/16 will receive a special Eli Manning Red Zone Autograph Reward Card. Please note only one reward card will be given per account.