VS
Todd Gurley VS David Johnson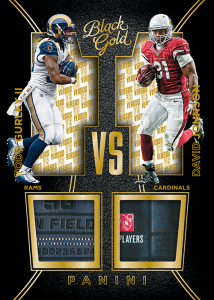 Our newest Black Gold VS insert has arrived!  VS dual memorabilia cards features 9 pairs of NFL stars. In the VS set you will find classic rivalries as well as players trying to fill the shoes of their predecessors. VS is a 9 card set with 1 Reward Card for completing the set by the Reward Deadline. Each Friday at 3pm EST we will release a new VS insert.
VS inserts are available in 3 variations – Jersey, Prime and Tag
Jersey – Available for 7 days. Retires when next card releases
Prime – Limited to 100 copies
Tag – Limited to 25 copies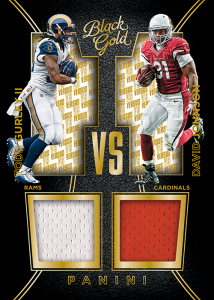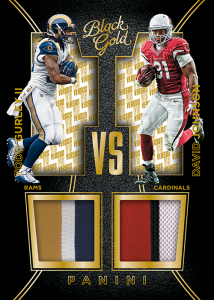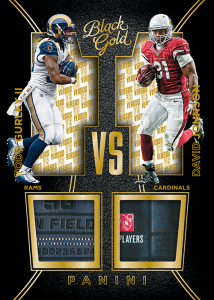 Today's VS inserts feature – Toddy Gurley VS David Johnson
VS will be available in the following packs:
VS Pack – 100 coins – VS insert 1:25, Prime 1:100 and Tag 1:250 packs on average
VS VIP Pack – 100 coins – VS insert 1:10, Prime 1:50 and Tag 1:100 packs on average
Making any coin purchase in the coin store will grant VIP access for 24 hours.
Users that collect all 9 cards in the Gold Rush set in a specific variation by 5/5/2017 at 2pm EST will earn the Tom Brady vs Peyton Manning Reward Card in the matching variation. For example, collecting all 9 Tag inserts will earn you the VS Tag Reward. Please note a maximum of one reward card for each variation will be given per account.