NFL Draft Gems
Shannon Sharpe

The 2017 NFL Draft is here! While many high profile prospects will hear their names called early, sometimes the players selected in the later rounds make the biggest impact.  Our new Draft Gems set takes a look at some of these late round picks that have made a lasting impression on their teams. Draft Gems is a 10 card set along with one reward card for collecting the entire 10 card set by the reward deadline.
Today's Draft Gem features: Shannon Sharpe
There will be two variations for Draft Gems – Blue Base and Blue Signature. 
Blue Base – Available for 48 hours. Once a new Draft Gem releases, the previous will be retired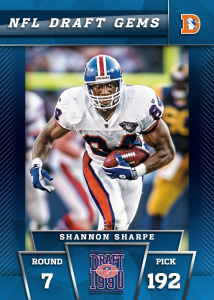 Blue Signature – Limited to just 100 copies. Available until sold old.
The Draft Gems can only be found in the following packs:
Draft Gems Pack – 100 coins – 1:20 chance for a Draft Gems Insert; 1:100 for Signature variant
Draft Gems VIP Pack – 100 coins – VIP Reduced Odds! 1:10 chance for a Draft Gems Insert; 1:50 for Signature variant
Draft Gems Signature Pack – $9.99 USD – Guaranteed Signature Pack! Get one Draft Gems Signature Insert in each pack while supplies last!
VIP All-Access Pack – 100 coins – 1:20 chance for a Draft Gems Insert
Making any coin purchase in the coin store will grant VIP access for 24 hours.
If you can collect all 10 Draft Gems insert cards in a specific variation, you will receive a special Draft Gems Tom Brady Reward card in the matching variation. For example, collecting all 10 Draft Gems Signature variants will earn you the Tom Brady Draft Gems Signature Reward. The deadline for completing the set is 5/18/17 at 6pm EST. Please note that a maximum of one reward card will be given per account..