Plates and Patches Double Coverage
Carson Wentz & Dak Prescott

One of the this year's most popular physical brands has gone digital for Gridiron! Today we release our newest Plates and Patches set with Double Coverage. The Double Coverage set pairs of top rookies from the 2016 NFL Season! Double Coverage is a 10 card set with a new card released every 48 hours. Once a new card releases the previous one will be retired. There will be a reward card for collecting the set by the reward deadline listed below.
Double Coverage inserts are available in 4 variations – Silver, Green, Red and Gold
Today's Double Coverage insert features : Carson Wentz & Dak Prescott
Silver Jersey: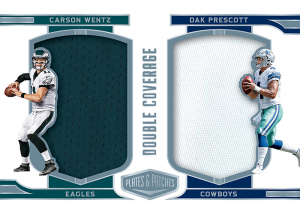 Green Patch: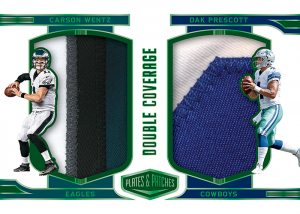 Red Tag: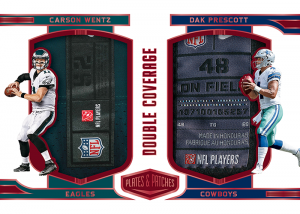 Gold Shield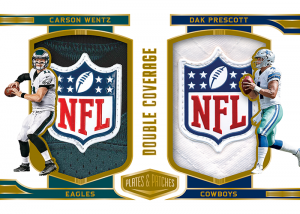 The Double Coverage inserts can be found in the following packs:
Double Coverage Chance Pack – 50 coins – 1:50 chance at a Double Coverage Jersey. 1:100 chance for Prime
Double Coverage Pack – 100 coins – 1:25 chance at a Double Coverage Jersey. 1:50 chance for Prime, 1:100 Tag, and 1:250 Shield
Double Coverage VIP Pack – 100 coins – VIP Reduced Odds! Double Coverage Odds – 1:10 Jersey, 1:25 Prime, 1:50 Tag, and 1:100 Shield
Double Coverage Premium Pack – $19.99 USD – Each pack guarantees 1 Double Coverage Jersey, Prime and Tag. Also includes a 1:5 chance for a Shield
Making any coin purchase in the coin store will grant VIP access for 24 hours.
Collectors that obtain all 10 Double Coverage inserts in a specific variation will receive a special Ezekiel Elliott and Derrick Henry Reward Card in the matching variation. The deadline for completing the set for the Reward Cards is 5/9/2017 2pm EST. Please note only one of each reward card will be given per eligible account.