Unsung Heroes
Ezekiel Ansah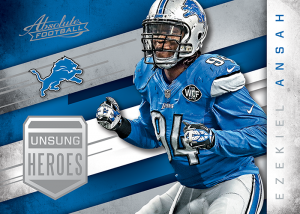 Our newest Gridiron Insert set is called Unsung Heroes. This set highlights the players that may not be in the spotlight, but are ones that every team loves to have on their roster.  They are leaders, dependable, and often times the heart and soul of a team, these Unsung Heroes are a pivotal part of their club. There are 10 cards in the Unsung Heroes set. One new card will release every other day. Each Unsung Hero insert will remain available until the next card releases. Once the new Unsung Heroes card releases the previous one will be retired.
The Unsung Hero set consists of the following players:
Cole Beasley – SOLD OUT
Nick Mangold – SOLD OUT
Tyrann Mathieu – SOLD OUT
Eric Berry – SOLD OUT
Kyle Long – SOLD OUT
Delvin Breaux – SOLD OUT
Adam Vinatieri – SOLD OUT
Sebastian Janikowski – SOLD OUT
Rob Ninkovich – SOLD OUT
Ezekiel Ansah – AVAILABLE NOW
Today's Unsung Hero Insert is: Ezekiel Ansah
Unsung Heroes inserts can be found in the following packs:
Unsung Heroes packs – 100 Coins – Odds of pulling an Unsung Heroes insert is 1:10 packs on average.
VIP All-Access packs – 100 Coins with VIP Access – Odds of pulling an Unsung Heroes insert is 1:10 packs on average. Gain VIP Access for 24 hours with any Coin purchase.
Collectors that manage to collect all 10 Unsung Hero inserts by Noon EST on 10/31/16 will receive a special Darren Sproles Unsung Heroes Autograph Reward Card. Please note only one reward card will be given per account.