Hot Rookie Signature Materials rise up in Phoenix!
VIPs get your first insert FREE!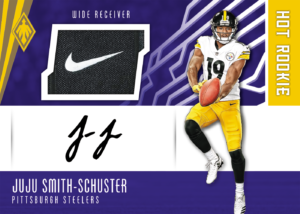 Phoenix has risen on Blitz! New cards from our Phoenix collection are now available for you to collect! There are 20 new Hot Rookie Material Signature cards ready to join your collections. VIP members can also get a FREE VIP Hot Rookie pack which contains a guaranteed insert! Each Hot Rookie Materials is available in 4 variations:
Red Football – Unlimited
Green Helmet – Limited to 499
Blue Nike Tag – Limited to 49
Blue NFL Shield Tag – Limited to 10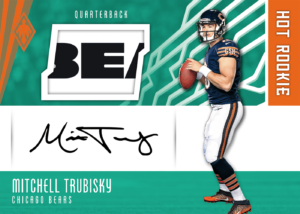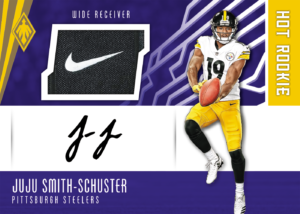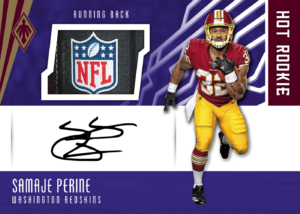 Blitz VIP Users can get a jump start on their Hot Rookie Materials Signature set by claiming a FREE pack in the Phoenix Store which includes 1 Guaranteed Hot Rookie Signature Materials insert! The FREE pack will be available until 3/4/17 11:59pm CST.
You can find the Phoenix Hot Rookie Materials inserts in the following packs in the Phoenix section of the Blitz Store:
Phoenix Hot Rookie Signature Pack:
5 total Cards – Includes Phoenix Base and Green, Black and Blue base variations
Cost – 500 coins
Hot Rookie Red Football Signature – 1:5 Chance per pack
Green Helmet Variation – 1:50 chance per pack
Phoenix Hot Rookie Sigs VIP Pack:
5 total Cards – Includes Phoenix Base and Green, Black and Blue base variations
Cost – 500 coins
Hot Rookie Red Football Signature – 1 Guaranteed per pack
Green Helmet Variation – 1:25 chance per pack
Blue Nike Tag Variations – 1:75 chance per pack
Blue NFL Shield Variations – 1:150 chance per pack
Phoenix Hot Rookie Premium VIP Pack:
5 total Cards – Includes Phoenix Base and Green, Black and Blue base variations
Cost – 5,000 coins
Hot Rookie Red Football Signature – 1 Guaranteed per pack
Green Helmet Variation – 1 Guaranteed per pack
Blue Nike Tag Variations – 1:10 chance per pack
Blue NFL Shield Variations – 1:25 chance per pack
To get VIP status and gain access to the Blitz VIP Store, make any coin purchase in the Blitz Coin Store. VIP store access is based on the amount of coins purchased. See store for details