A brand new Holiday exclusives featuring some of the top rookies and stars have arrived for Easter!
There are 20 new Holiday Blitz cards to collect. Collect all 20 by April 9th to earn a Patrick Mahomes Easter reward card!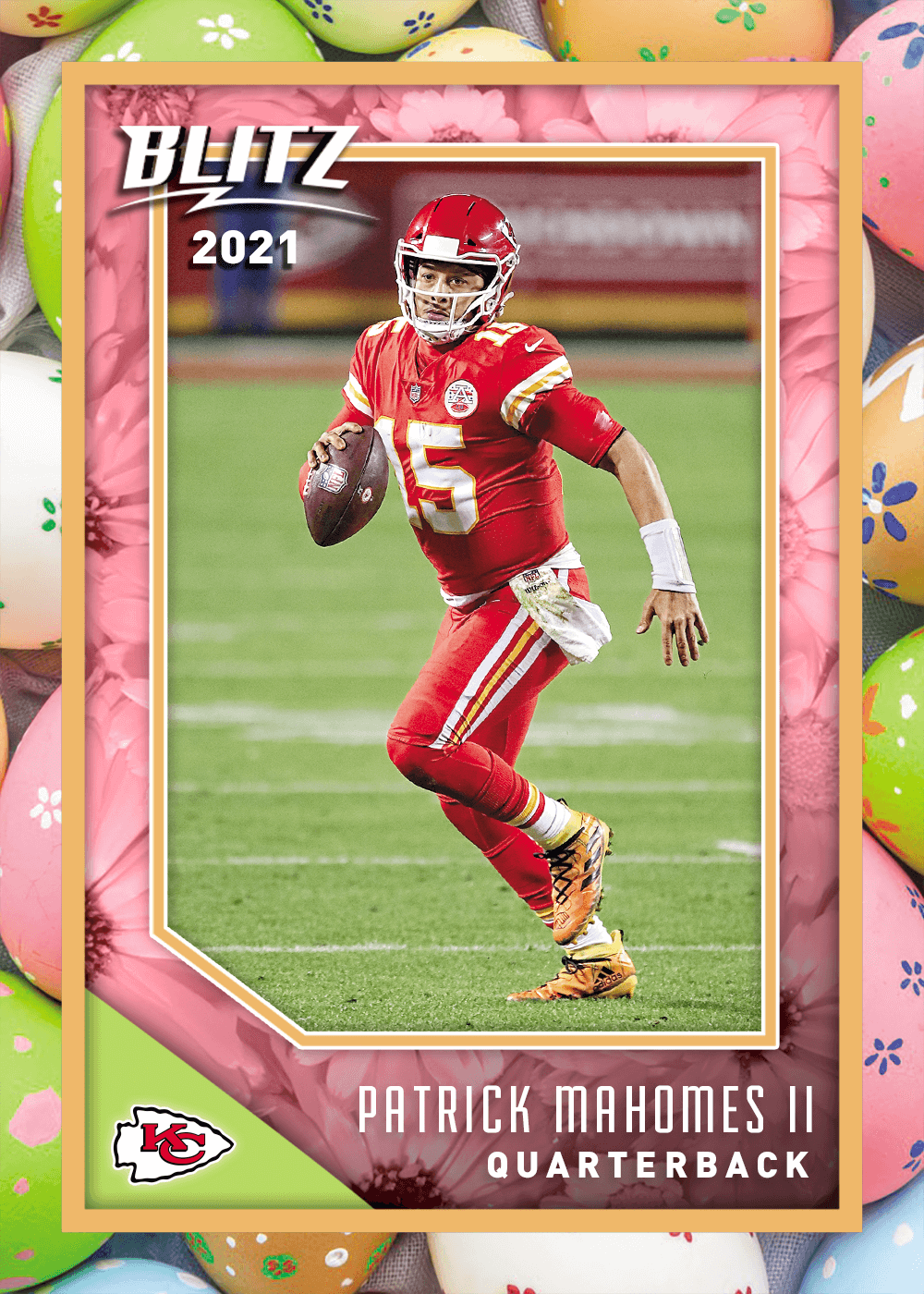 The players featured in Blitz Holiday Easter packs are :
Justin Herbert (Los Angeles Chargers)
Joe Burrow (Cincinnati Bengals )
Tua Tagovailoa (Miami Dolphins )
Chase Young (Washington Football Team)
CeeDee Lamb (Dallas Cowboys )
Justin Jefferson (Minnesota Vikings )
Jonathan Taylor (Indianapolis Colts )
Brandon Aiyuk (San Francisco 49ers)
Chase Claypool (Pittsburgh Steelers )
Clyde Edwards-Helaire (Kansas City Chiefs)
Tom Brady (Tampa Bay Buccaneers)
Aaron Rodgers (Green Bay Packers)
Josh Allen (Buffalo Bills )
Russell Wilson (Seattle Seahawks )
Derek Carr (Las Vegas Raiders)
Derrick Henry (Tennessee Titans )
Nick Chubb (Cleveland Browns )
DeAndre Hopkins (Arizona Cardinals )
Calvin Ridley (Atlanta Falcons )
Christian McCaffrey (Carolina Panthers )
With the massive Holiday Sale coming soon, get ready to stock up some extra coins, extra packs & exclusive Holiday cards!! Keep your notifications turned on and stay tuned for more! So what are you waiting for! Get on to collecting these limited-time Holiday cards, all of which will be numbered once the packs retire next week!
Happy Holidays!
Note:
The Easter folder will have a total of 21 cards, including the reward card. All users collecting the 20 cards (except Mahomes) by the cut-off time of 9th Apr 10 AM CST, will be eligible for the 21st card, post which your album will show completed.
Easter pack offerings have all 20 cards included and available for our users to collect. Packs will remain in the Store until 10 AM CST, 8th Apr 2021.
The reward card distribution will be done on 9th Apr, next Friday 10AM CST. We will also number all your Easter cards then.