Immaculate gets Blitzed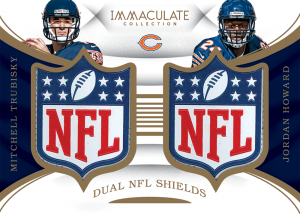 One of the most coveted brands in all of football has just gone digital in Blitz! Immaculate has arrived! Immaculate contains some of the most unique and amazing memorabilia and signature cards to date on Blitz! From Rookie Autograph Patches, limited Signature sets, and unique Memorabilia cards, Immaculate has just what you're looking for! Every Immaculate pack contains 1 base card along with 6 Autograph and Memorabilia cards per pack!
Look for the following in every Immaculate pack!
Base Card – 1 per pack – Unlimited – 5x Contest Bonus for eligible players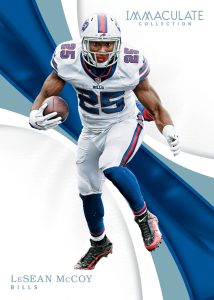 Rookie Autograph Patches- 2 Guaranteed per pack – 15x to 25x Contest Scoring bonuses

Rookie Autograph Patch – Silver Unlimited, Gold Limited to 99, Tag limited to 25, Shield limited to 10
Premium Rookie Autograph Patch – Silver Unlimited, Gold limited to 99, Tag limited to 25, Shield limited to 10
Signature Patch DualRookies – Silver Unlimited, Gold Limited to 99, Tag limited to 25
Rookie Number Autograph Patch – Limited to players jersey number
Players Collection Autographs – Silver Unlimited, Gold Limited to 99, Tag limited to 25
Autographs – 2 Guaranteed per pack- 15x to 25x Contest Scoring bonuses – At least 1 limited version per pack
Rookie Autographs – Silver Unlimited, Gold Limited to 99, Platinum limited to 25
Shadowbox Signatures – Unlimited
Dual Autographs – Unlimited
Signature Moves – Limited to 99 each
Trio Signatures – Limited to 49 each
Ring Signatures – Limited to 49 each
Honors Signatures – Limited to 49 each
Super Bowl Signature – Limited to 49 each
Season Signatures – Limited to 49 each
Postseason Signatures – Limited to 49 each
Pro Bowl Signatures – Limited to number of Pro Bowl appearances
Eye Black Signatures – Silver limited to 99, Gold limited to 25
Dual Eye Black Signatures – Silver limited to 99, Gold limited to 25

Memorabilia – 2 Guaranteed per pack – 15x to 25x Contest Scoring bonuses – At least 1 limited version per pack
 

Team Gloves – Silver unlimited, Brand Logo limited to 99, Wrist Logo limited to 25, NFL Shield limited to 10
Dual Jerseys – Silver unlimited, Gold limited to 99, Blue limited to 49, Tag limited to 10
Triple Jerseys – Silver unlimited, Gold limited to 99, Blue limited to 49, Tag limited to 10
Quad Jerseys – Silver unlimited, Gold limited to 99, Blue limited to 49, Tag limited to 10
Past and Present Dual Jerseys – Silver unlimited, Gold limited to 99, Blue limited to 49, Tag limited to 10
Immaculate Standard Jerseys – Silver unlimited, Gold Patch limited to 99, Brand Logo limited to 10
Pro Bowl Swatches – Silver unlimited, Gold patch limited to 99, Blue Brand Logo limited to 10, Pro Bowl Logo limited to 5
Rookie Helmets – Logos limited to 25, NFL Shields limited to 5
Jumbo Jersey Numbers Patch – limited to 99
Jumbo Patches – Limited to 49
Jumbo Nike Logo – Limited to 25
Jumbo Tags – Limited to 10
Dual NFL Shields – Limited to 1
There will be two Immaculate packs available for Blitz users:
Immaculate Pack – $19,99 direct purchase
Immaculate VIP Pack – 50,000 Coins
To get VIP status and gain access to the Blitz VIP Store, make any coin purchase in the Blitz Coin Store. VIP store access is based on the amount of coins purchased. See store for details