Instants honors the 2018 Hall of Fame inductees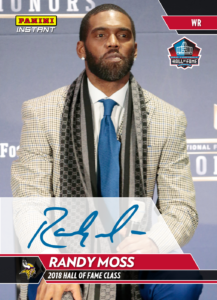 Panini Instant has arrived on Blitz! Panini Instant brings the latest NFL action straight to your card collections! Panini Instant inserts feature significant moments, great plays and outstanding performances from throughout the season.
Panini Instant card are also available in physical form through the Panini American website. You can get the physical versions of the Panini Instant trading cards by going to the Panini Instant website (http://store.paniniamerica.net/panini-instant/nfl.html) and ordering there!
For our Blitz Digital fans, every week we will release new cards featuring outstanding performances and moments from the previous week of NFL action.
The Pro Football Hall of Fame Class of 2018 are featured in this week's Instant release!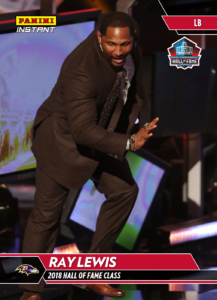 Jerry Kramer
Brian Dawkins
Brian Urlacher
Ray Lewis
Randy Moss
Instant cards are available in the following packs and will be available until 2/28/2018 at 1pm EST:
Instant Pack – 1500 coins – 1 guaranteed random Instant HOF Card and a 1:25 chance for an Instant Signature
Instant VIP Pack – 2500 coins – 1 guaranteed Instant HOF insert and 1 Instant Signature per pack! Plus a 1:10 chance for a second Instant Base or Signature.
To gain VIP status and access the Blitz VIP Store, just make any coin purchase in the Blitz Coin Store. VIP store access is based on the amount of coins purchased. Visit the coin store for details!