Signature Series
Matt Ryan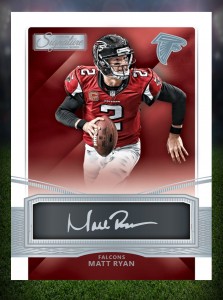 Matt Ryan is today's Signature Series insert.  Signature Series inserts can only be found in the Signature Series packs. Packs are limited to 1 per account and each pack guarantees a Signature Series insert.  A new Signature Series insert will be released every 2 to 3 days. There are 16 total cards in the Signature Series set:
Andrew Luck – retired
DeAndre Hopkins – retired
Ben Roethlisberger – retired
Demaryius Thomas – retired
Aaron Rodgers – retired
Matt Forte – retired
Peyton Manning – retired
Dez Bryant – retired
Philip Rivers – retired
Rob Gronkowski
Matt Ryan
Adrian Peterson
Drew Brees
Tony Romo
Russell Wilson
Eli Manning
By collecting all 16 cards, you'll also receive the Tom Brady Signature Series Reward Card!
Today's Matt Ryan Signature Series insert will be available until the next Signature Series card is released.