New Silhouettes!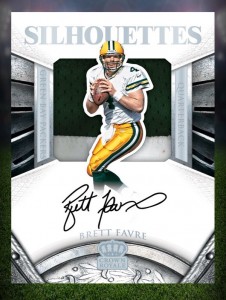 The Crown Royale Silhouettes have been one of the most popular Panini inserts for years, and now they have come to Gridiron!  Each week we will release two new Silhouette inserts for you to collect.  Every Silhouette card is limited to just 500 copies!  There are 16 cards in the Silhouette set:
Tim Brown
Russell Wilson
Brett Favre
Jerry Rice
Roger Staubach
Drew Brees
Eli Manning
Joe Namath
Matthew Stafford
Colin Kapernick
Lawrence Taylor
Jamaal Charles
Peyton Manning
Jameis Winston
Marcus Mariota
Amari Cooper
By collecting all 16 cards, you'll also receive the Todd Gurley Silhouette Reward Card!
Today's Silhouette Inserts are – Jerry Rice and Brett Favre.
Silhouettes can only be found in the Silhouette packs. The odds of pulling a Silhouette insert are 1:60 packs.