Update – VIP Coin Packs and Premium Packs will release on 4/20/21 at 10am CST
Immaculate returns to Blitz! The most popular NFL sports card brands are now available digitally with Blitz.  Collectors can find a wide variety of Rookies, Inserts, Signatures and Memorabilia cards within the Immaculate set. The Immaculate set includes 98 veterans, retired players and rookies and over 40 different Signature and Memorabilia sets! Every card in the premium Immaculate set is limited to 99 copies or less!
This season you can get a chance to be one of the first collectors to get Immaculate with the First Off The Line Packs! The First Off the Line Immaculate packs will be available in limited quantities before the official Immaculate release in the coming days. Each First Off The Line Immaculate pack includes a FOTL Exclusive Variation limited to 3 copies or 1 copy each!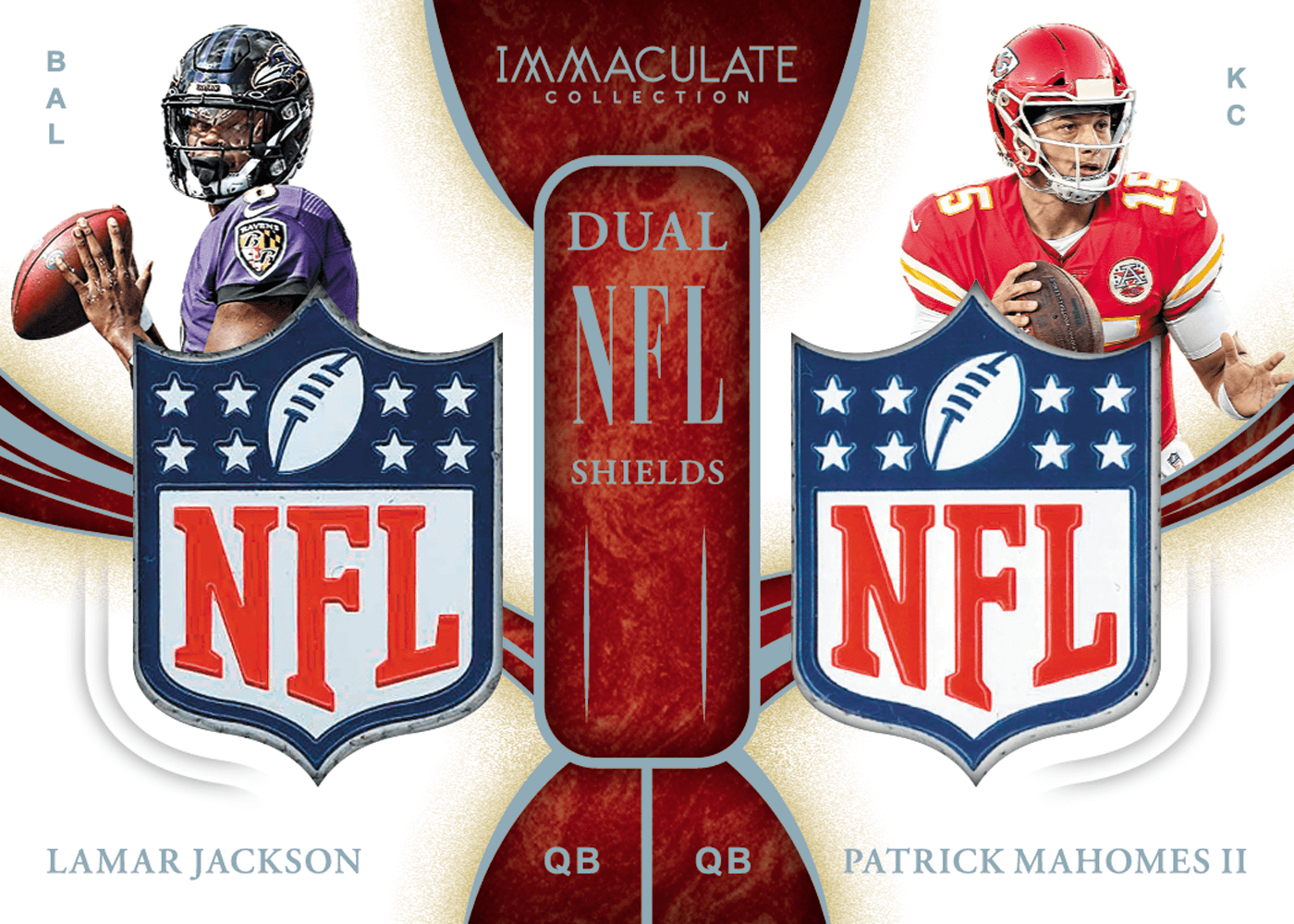 The Immaculate Set includes 98 different players. Each Immaculate Base card is available in the following variations.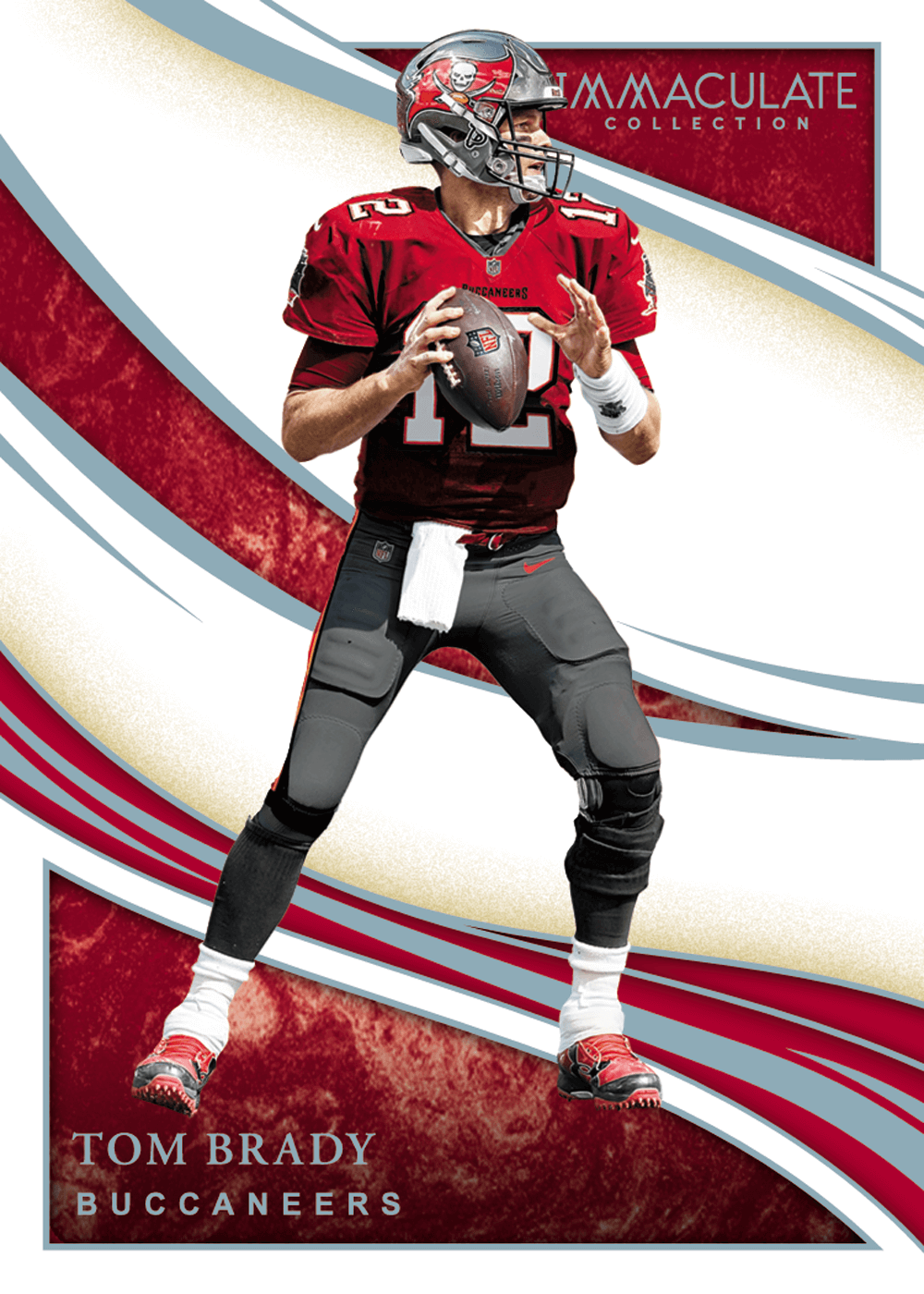 Base – Limited to 99 each
Red – Limited to 49 each 
Blue – Limited to 25 each
Gold – Limited to 10 each
Green – Limited to 5 each
Platinum Blue – Limited to 3 each – FOTL Exclusive
Rookie Autograph Patches: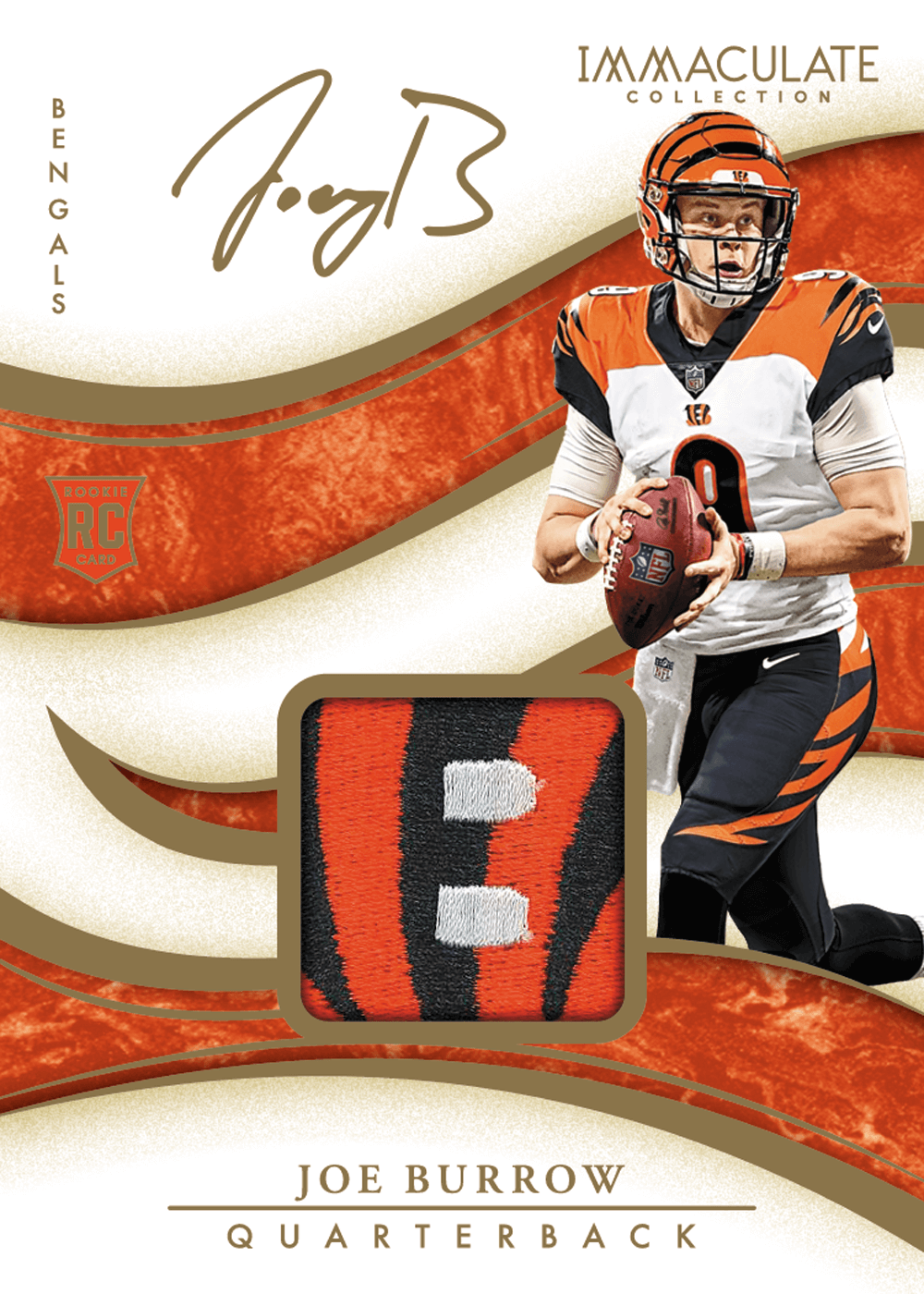 Look for the following Rookie Autograph Patch Sets:
Rookie Patch Autograph – 42 Cards – Limited to 99 each
Rookie Patch Autograph Gold – Limited to 25 each
Rookie Patch Autograph Platinum – Limited to 10 each
Rookie Patch Autograph Green – Limited to 5 each
Rookie Patch Autograph NFL Shield – Limited to 1 each – FOTL Exclusive
Premium Rookie Patch Autographs – 29 Cards – Limited to 49 each
Premium Rookie Patch Autograph Gold – Limited to 25 each
Premium Rookie Patch Autograph Platinum – Limited to 10 each
Premium Rookie Patch Autograph Green – Limited to 5 each
Premium Rookie Patch Autograph NFL Shield – Limited to 1 each – FOTL Exclusive
Signature Patches Rookie – 29 Cards – Limited to 49 each
Signature Patches Rookie Gold – Limited to 25 each
Signature Patches Rookie Platinum – Limited to 10 each
Signature Patches Rookie Green – Limited to 5 each
Signature Patches Rookie Tag – Limited to 3 each – FOTL Exclusive
Immaculate Numbers Rookie Patch Autograph – 42 Cards – Limited to player's jersey number
Autograph Memorabilia: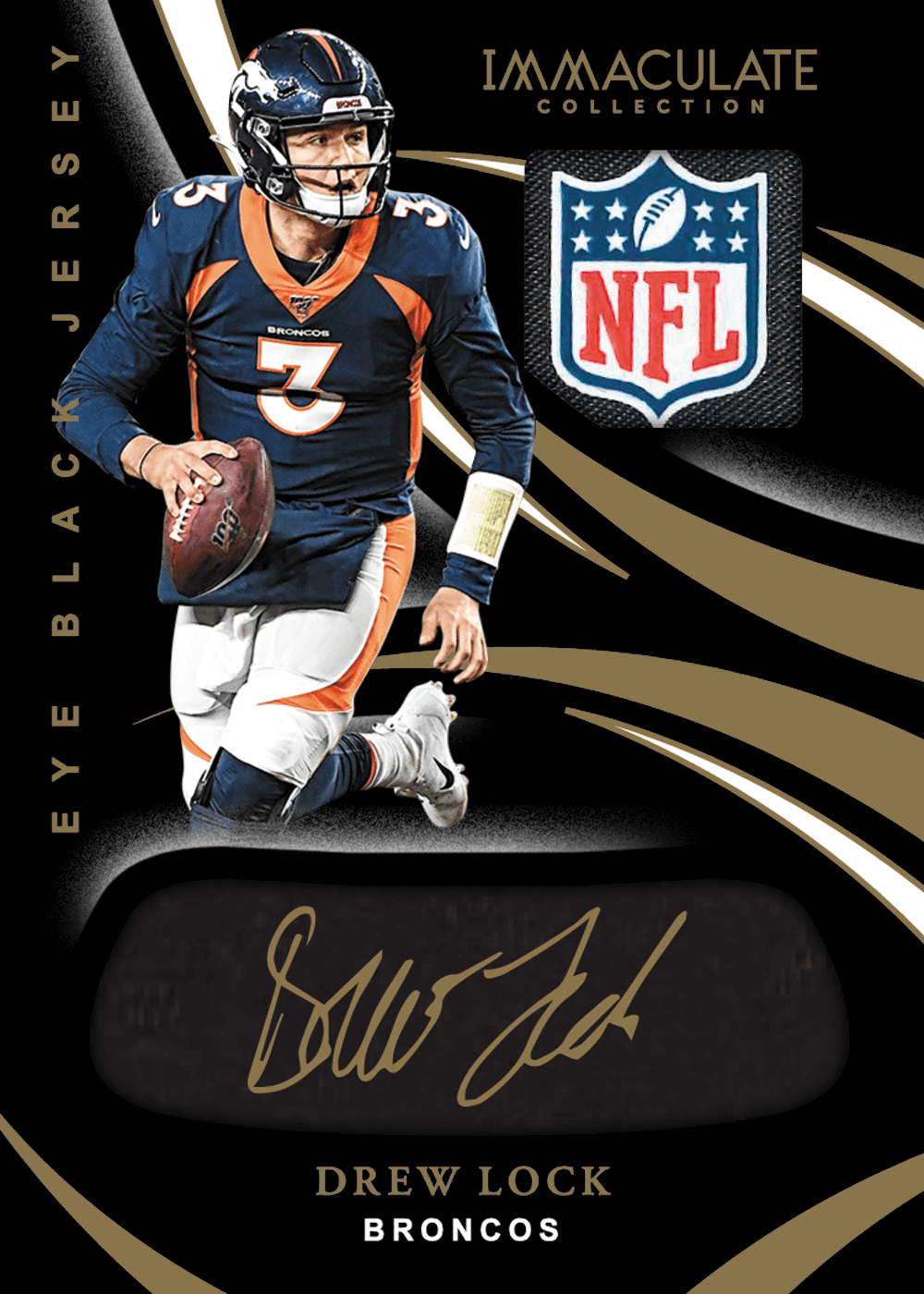 Look for the following Autograph Sets:
Premium Patch Autographs – 50 Cards – Limited to 99 each
Premium Patch Autographs Gold – Limited to 25 each
Premium Patch Autographs Blue – Limited to 10 each
Premium Patch Autographs NFL Shield – Limited to 3 each – FOTL Exclusive
Players Collection Autographs – 50 Cards – Limited to 99 each
Players Collection Autographs Gold – Limited to 25 each
Players Collection Autographs Blue – Limited to 10 each
Rookie Eye Black Jersey – 42 Cards – Limited to 25 each
Rookie Eye Black Jersey Gold – Limited to 10 each
Eye Black Jersey – 20 Cards – Limited to 25 each
Eye Black Jersey Gold – Limited to 10 each
Autographs: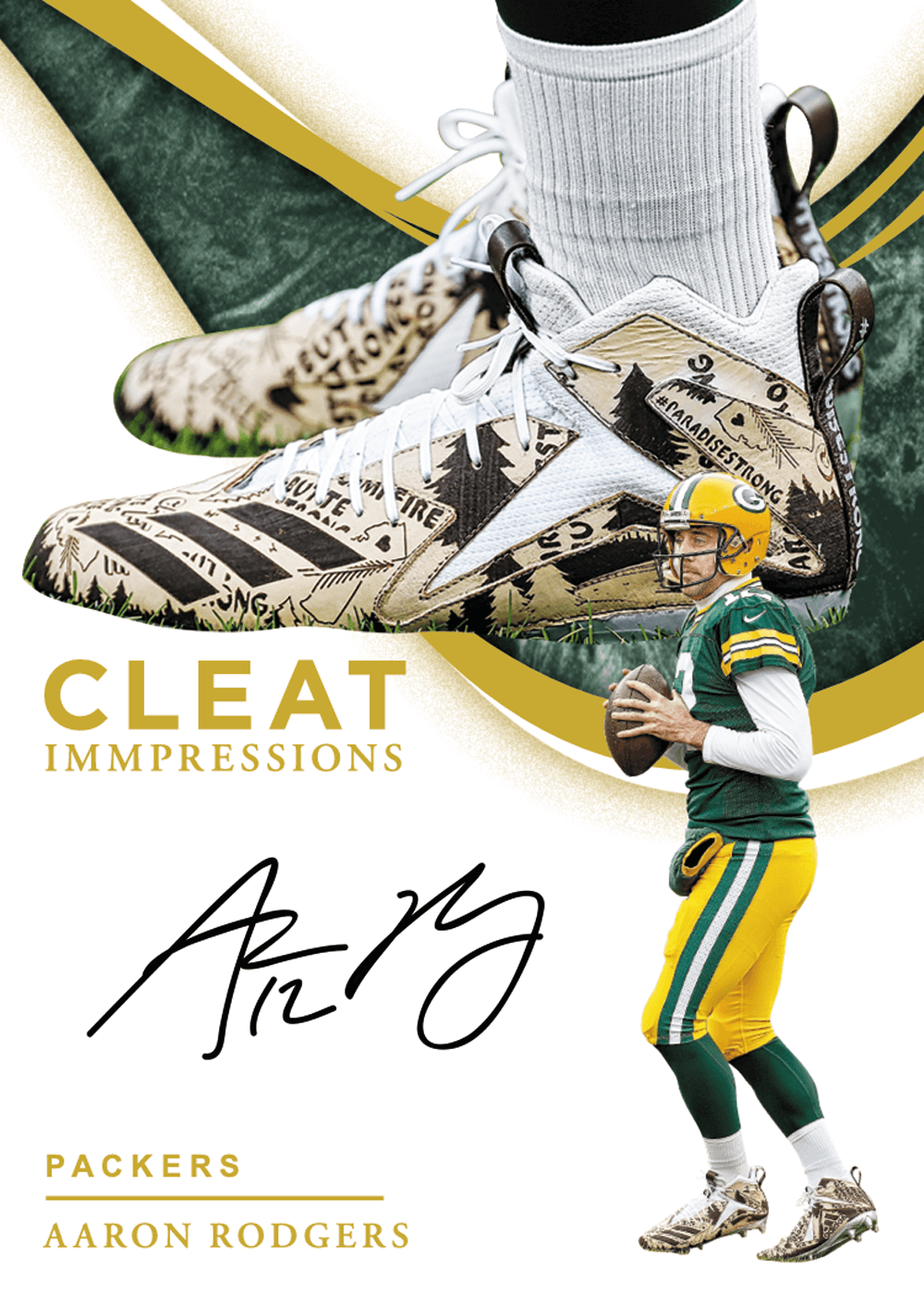 Look for the following Autograph Sets:
Dual Autographs – 4 Cards – Limited to 25 each
Trios Autographs – 4 Cards – Limited to 25 each
Signature Moves – 5 Cards – Limited to 25 each
Rings Signatures – 20 Cards – Limited to 25 each
Rookie Autographs – 23 Cards – Limited to 25 each
Immaculate Moments Autographs – 19 Cards – Limited to 25 each
Immaculate Records Autographs – 19 Cards – Limited to 25 each
Immaculate Introductions Autographs – 20 Cards – Limited to 25 each
Cleat Immpressions – 20 Cards – Limited to 10 each
Immaculate Marks of Greatness – 20 Cards – Limited to 25 each
All-Time Greats Signatures – 19 Cards – Limited to 25 each
Immaculate Comeback Signatures – 13 Cards – Limited to 25 each
Immaculate Honors Signatures – 5 Cards – Limited to 25 each
Immaculate HOF Signatures – 24 Cards – Limited to 25 each
Shadowbox Signatures – 15 Cards – Limited to 25 each
Rookie Shadowbox Signatures – 20 Cards – Limited to 25 each
Eye Black Signatures – 23 Cards – Limited to 99 each
Eye Black Signatures Gold – Limited to 10 each
Eye Black Dual Signatures – 10 Cards – Limited to 49 each
Eye Black Dual Signatures Gold – Limited to 10 each
Eye Black Triple Signatures – 4 Cards – Limited to 25 each
Eye Black Triple Signatures Gold – Limited to 10 each
Memorabilia: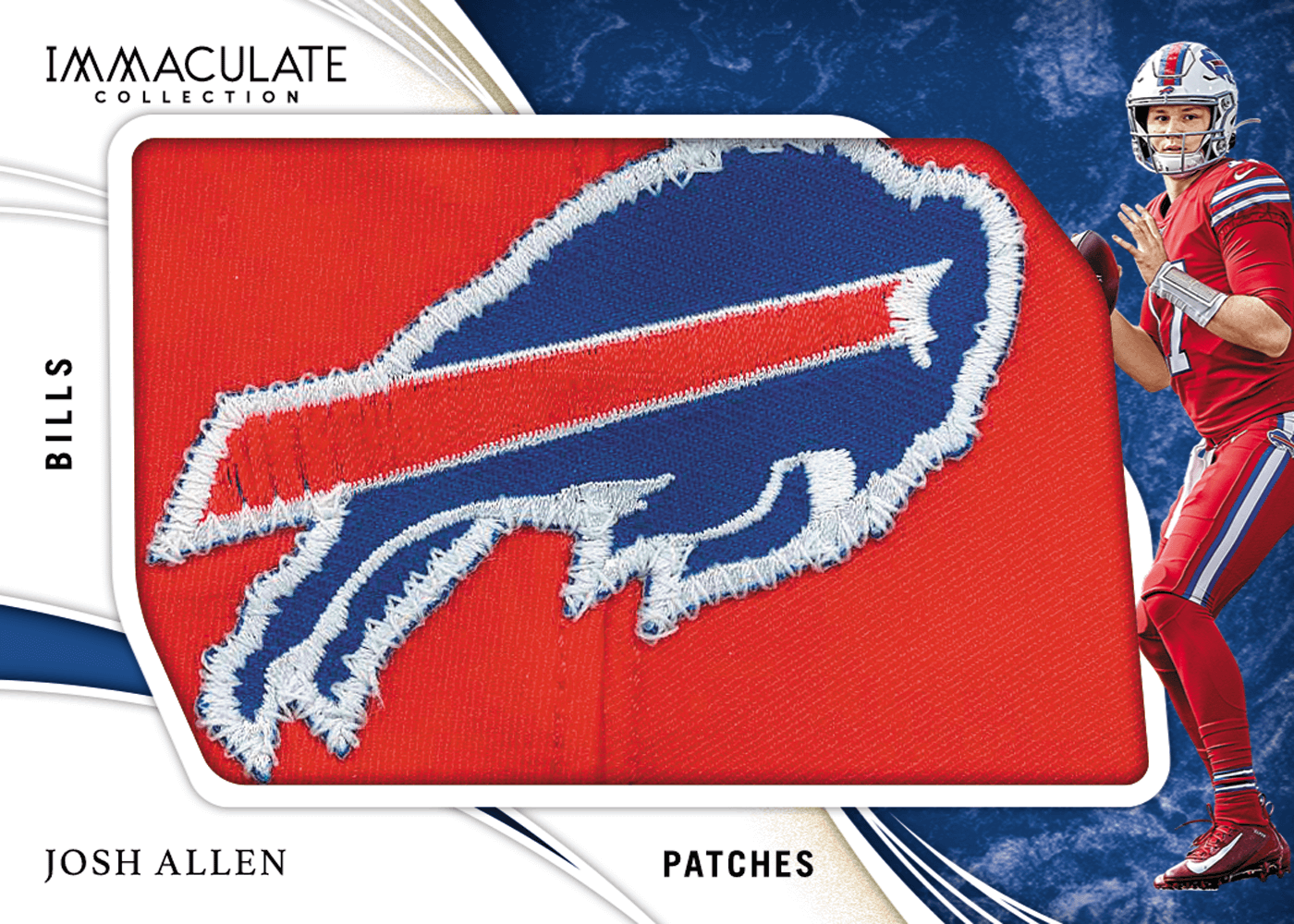 Look for the following Memorabilia Sets:
Immaculate Numbers Memorabilia – 68 Cards – Limited to player's jersey number
Immaculate Numbers Memorabilia Platinum – Limited to 3 each – FOTL Exclusive
Past and Present Memorabilia – 30 Cards – Limited to 99 each
Past and Present Memorabilia Platinum – Limited to 3 each – FOTL Exclusive
Immaculate Logos – 58 Cards – Limited to 25 each
Immaculate Number – Limited to 20 each
Immaculate Patches – Limited to 15 each
Immaculate Insignia – Limited to 10 each
Immaculate Tags – Limited to 5 each
Immaculate NFL Shield – Limited to 1 each – FOTL Exclusive
Immaculate Rookie Logos -42 Cards – Limited to 25 each
Immaculate Rookie Number – Limited to 20 each
Immaculate Rookie Patches – Limited to 15 each
Immaculate Rookie Insignia – Limited to 10 each
Immaculate Rookie Tags – Limited to 5 each
Immaculate Rookie NFL Shield – Limited to 1 each – FOTL Exclusive
Immaculate Helmets – 50 Cards – Limited to 49 each
Immaculate Helmets Logo Blue – Limited to 25 each
Immaculate Helmets Snaps Red – Limited 3 each – FOTL Exclusive
Immaculate Gloves Team Logo – 50 Cards – Limited to 49 each
Immaculate Gloves Brand Logo Gold – Limited to 25 each
Immaculate Gloves NFL Tag Red – Limited to 3 each – FOTL Exclusive
Immaculate Dual Jersey – 35 cards – Limited to 99 each
Immaculate Dual Jersey Gold – Limited to 25 each
Immaculate Dual Jersey Blue – Limited to 10 each
Immaculate Dual Jersey Red – Limited to 3 each – FOTL Exclusive
Immaculate Triple Jersey – 15 cards – Limited to 49 each
Immaculate Triple Jersey Gold – Limited to 25 each
Immaculate Triple Jersey Blue – Limited to 10 each
Immaculate Triple Jersey Red – Limited to 3 each – FOTL Exclusive
Immaculate Quad Jersey – 35 cards – Limited to 25 each
Immaculate Quad Jersey Gold – Limited to 10 each
Immaculate Quad Jersey Blue – Limited to 5 each
Immaculate Quad Jersey Red – Limited to 3 each – FOTL Exclusive
Immaculate Players Collection Jersey – 40 cards – Limited to 99 each
Immaculate Standard – 60 cards – Limited to 49 each
Immaculate Standard Prime – Limited to 25 each
Immaculate Standard Platinum – Limited to 3 each – FOTL Exclusive
Immaculate HOF Jersey – 30 cards – Limited to 49 each
Immaculate HOF Jersey Gold – Limited to 25 each
Immaculate HOF Jersey Platinum – Limited to 3 each – FOTL Exclusive
Immaculate Monuments – 9 cards – Limited to 49 each
Immaculate Monuments Prime – Limited to 25 each
Immaculate Rookie Helmets – 42 cards – Limited to 25 each
Immaculate Rookie Helmets Flag – Limited to 10 each
Immaculate Rookie Helmets NFL Shield – Limited to 1 each – FOTL Exclusive
Immaculate Rookie Reserve – 20 cards – Limited to 25 each
Immaculate Rookie Reserve Laundry Tag – Limited to 10 each
Immaculate Rookie Reserve Brand Logo – Limited to 3 each – FOTL Exclusive
Immaculate Dual NFL Shields – 38 Cards – Limited to 1 each – FOTL Exclusive
Look for these Immaculate packs and offers:
2020 Immaculate FOTL Pack – Available until Sold Out
12 total Cards
Cost – $29.99 per pack
1 Guaranteed FOTL Exclusive Variation limited to 3 or 1
2 Immaculate Base or Base Variation
5 Memorabilia Inserts
2 Autograph Memorabilia Inserts
1 Autograph insert
2020 Immaculate 2-Pack FOTL Box – $49.99
2020 Immaculate 5-Pack FOTL Box – $99.99
2020 Immaculate Premium Pack  
10 total Cards
Cost – $24.99 per pack
2 Immaculate Base or Base Variation
5 Memorabilia Inserts
2 Autograph Memorabilia Inserts
1 Autograph Insert
2020 Immaculate 5-Pack Premium Box – $99.99
2020 Immaculate VIP Pack – Limited to 1000 packs
10 total Cards
Cost –75,000 Coins
2 Immaculate Base or Base Variation
5 Memorabilia Inserts
2 Autograph Memorabilia Inserts
1 Autograph Insert