VIP Pack Issue Update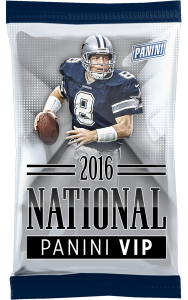 The 2016 National VIP packs have temporarily been removed from the Gridiron Store. We had an issue with the packs early on where the packs incorrectly gave out 2 Signatures and 1 Patch rather than 2 Patches and 1 Signature. The packs were corrected soon after release, however the error did cause an issue with number of packs available.  This issue only affected Gridiron users and did not occur in Dunk.
We are currently evaluating the number of remaining cards available and will be updating the packs with the remaining inserts soon. Thanks for your patience while we ensure the packs function correctly and the card counts stay true.
Here are where the counts currently sit:
BASE – 200 of each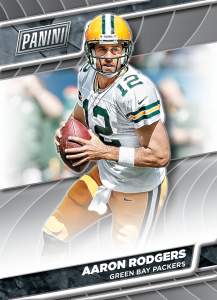 Aaron Rodgers – 133
Adrian Peterson – 114
Andrew Luck – 134
Barry Sanders – 118
Cam Newton – 116
Carson Wentz – 124
Dan Marino – 112
Derek Carr – 112
Derrick Henry – 119
Ezekiel Elliott – 132
Jameis Winston – 150
Jared Goff – 140
J.J. Watt – 122
Corey Coleman – 126
Laquon Treadwell – 108
Marcus Mariota – 143
Paxton Lynch – 129
Peyton Manning – 117
Rob Gronkowski – 121
Russell Wilson – 134
Teddy Bridgewater – 131
Todd Gurley – 109
Tom Brady – 120
Brett Favre – 122
Odell Beckham Jr. – 126
PURPLE BASE – 50 of each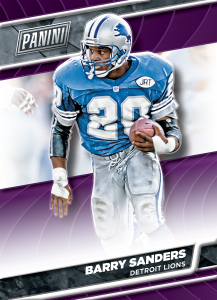 Aaron Rodgers – 39
Adrian Peterson – 35
Andrew Luck – 36
Barry Sanders – 33
Cam Newton – 18
Carson Wentz – 28
Dan Marino – 24
Derek Carr – 35
Derrick Henry – 31
Ezekiel Elliott – 29
Jameis Winston – 25
Jared Goff – 30
J.J. Watt – 34
Corey Coleman – 29
Laquon Treadwell – 41
Marcus Mariota – 36
Paxton Lynch – 35
Peyton Manning – 26
Rob Gronkowski – 22
Russell Wilson – 33
Teddy Bridgewater – 31
Todd Gurley – 32
Tom Brady – 34
Brett Favre – 33
Odell Beckham Jr. – 29
Patch – 100 of each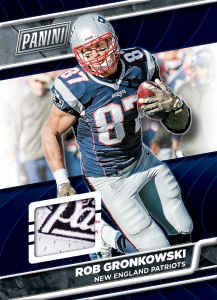 Aaron Rodgers – 50
Adrian Peterson – 50
Andrew Luck – 50
Barry Sanders – 50
Cam Newton – 50
Carson Wentz – 50
Dan Marino – 50
Derek Carr – 50
Derrick Henry – 50
Ezekiel Elliott – 50
Jameis Winston – 50
Jared Goff – 50
J.J. Watt – 50
Corey Coleman – 50
Laquon Treadwell – 50
Marcus Mariota – 50
Paxton Lynch – 50
Peyton Manning – 50
Rob Gronkowski – 50
Russell Wilson – 50
Teddy Bridgewater – 50
Todd Gurley – 50
Tom Brady – 50
Brett Favre – 50
Odell Beckham Jr. – 50
Signature – 50 of each
Aaron Rodgers – 38
Adrian Peterson – 37
Andrew Luck – 41
Barry Sanders – 45
Cam Newton – 49
Carson Wentz – 45
Dan Marino – 37
Derek Carr – 38
Derrick Henry – 43
Ezekiel Elliott – 34
Jameis Winston – 48
Jared Goff – 42
J.J. Watt – 42
Corey Coleman – 47
Laquon Treadwell – 43
Marcus Mariota – 57
Paxton Lynch – 42
Peyton Manning – 43
Rob Gronkowski – 39
Russell Wilson – 37
Teddy Bridgewater – 40
Todd Gurley – 43
Tom Brady – 43
Brett Favre – 41
Odell Beckham Jr. – 42
VIP Jumbo Autograph Patch – Limited to 10 each
Thomas Rawls – 6
David Johnson – 4
J.J. Watt – 6
Ezekiel Elliott – 6
Cris Carter – 7
Carson Wentz – 6
Stefon Diggs – 9
Derrick Henry – 8
Paxton Lynch – 6
Derek Carr – 9
VIP Jumbo Patch – Limited to 5
Carson Wentz – 2
Jared Goff – 1
Ezekiel Elliott – 3
Paxton Lynch – 3