Update: Good news! Starting this NFL Week 7, we will be giving the contest bonus cards per team every week instead of one per account. Register more lineups to get more of the contest-exclusive reward cards.
All Player of the Week emoji cards will be later numbered!! You can always trade or auction the extra copies of these Super Rare cards.
Article dated Sep 20, 2022
We are happy to announce a special animated card for all our contest participants, from Week 1 through Week 3 on Blitz!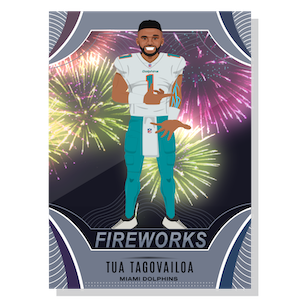 A complimentary pack with the Player of the Week emoji card featuring 'Tua Tagovailoa' has been added to the inventory of all eligible users, one per account. Rip open soon! We hope you enjoy your new card.
To view your gift card : Collections > 2022 > 2022 Contest Exclusive > Player of the Week
Keep playing for more!