Blitz is bringing back Weekly Insert Releases this season! Every week we will have a new Blitz Exclusive insert available for you to collect! Collecting all 16 cards in the set will earn you a special Reward card at the end of the year! A new card from each Weekly Exclusive insert set will be available each day! These cards will be available in Coin and VIP Coin packs as well as other Blitz promotions. Some Weekly Inserts will also carry bigger Scoring Bonuses to help you in your Blitz Contests!
Today's Blitz Exclusive Weekly Release is:  Dilfer's Dimes
Super Bowl Champion Trent Dilfer is personally selecting a player every week to be featured in our newest weekly release – Dilfer's Dimes. Follow Trent Dilfer on Twitter (@DilfersDimes) to see his weekly video selection!
Dilfers Dimes – Unlimited – 5x Contest Multiplier
Each Dilfer's Dimes card will be available for 1 week or until sold out. At the end of the week, the card will no longer be available. Get yours while you can!
Today's Dilfer's Dimes insert features: Nick Bosa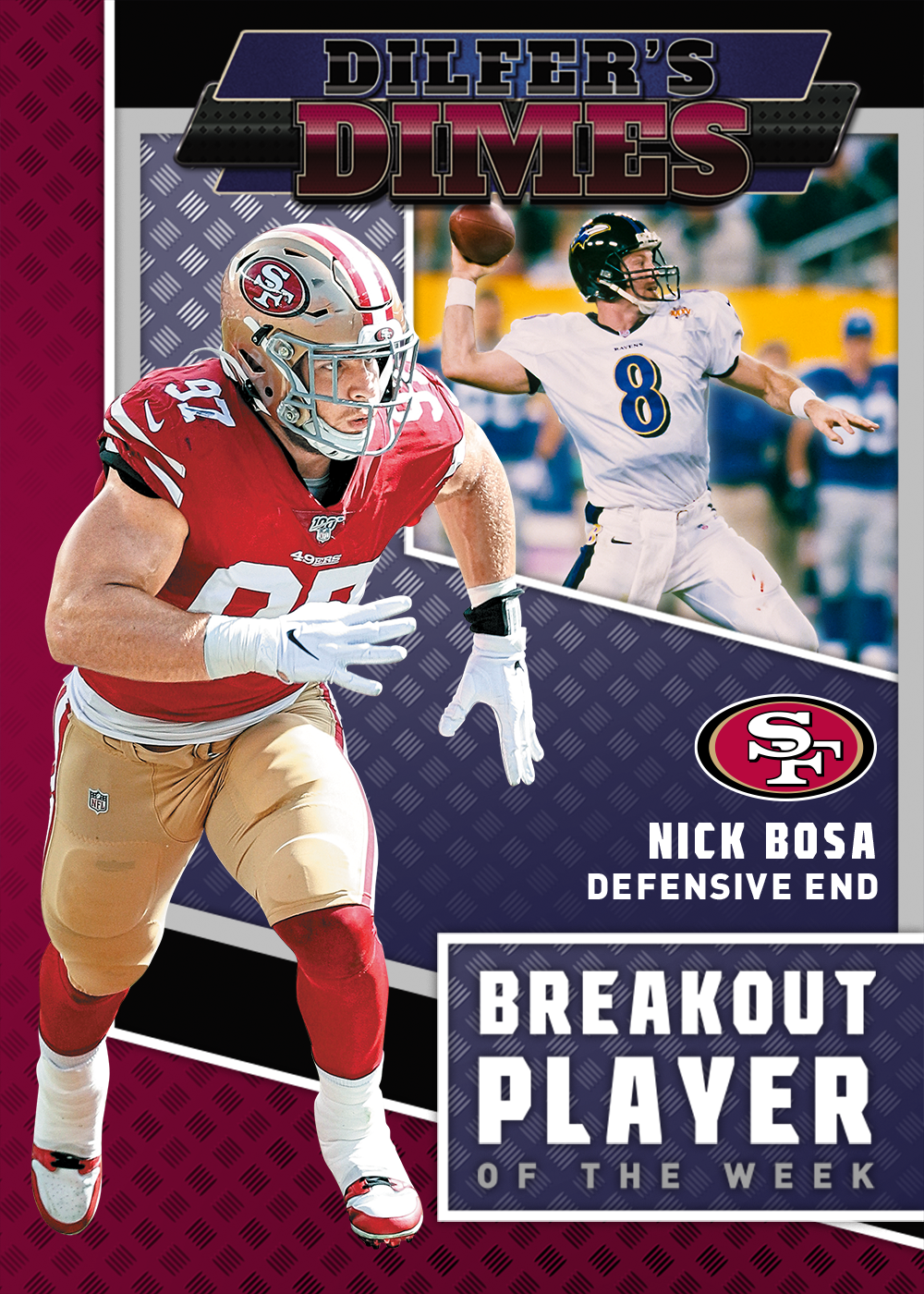 The Dilfer's Dimes Insert can found in the following packs:
Dilfer's Dimes Pack – 500 coins – 1:15 chance at Dilfer's Dimes Insert – Each pack also includes one 2019 Blitz Bronze variation
Dilfer's Dimes VIP Pack – 750 coins – 1:10 chance at Dilfer's Dimes Insert – Each pack also includes one 2019 Blitz Bronze, Silver or Gold variation.
If you can collect all 16 weekly Dilfer's Dimes cards in a specific variation you will receive a special Dilfer's Dimes Reward card. For example, collecting all 16 Dilfer's Dimes will earn you the Dilfer's Dimes Reward Card at the end of the season.