Introducing Certified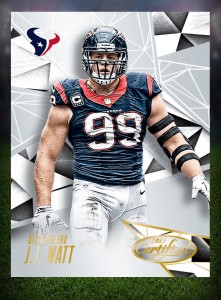 The latest Gridiron insert set is now available – Certified! There are only 2500 of each Certified insert available. Each week, two new Certified inserts will be released. There are 16 total cards in the Certified set:
Odell Beckham Jr.
J.J. Watt
Jason Witten
A.J. Green
Andy Dalton
Randall Cobb
Mark Ingram
Keenan Allen
Marshawn Lynch
Cam Newton
Calvin Johnson
Tom Brady
Blake Bortles
Le'Veon Bell
T.Y. Hilton
Teddy Bridgewater
By collecting all 16 cards, you'll also receive the Julio Jones Certified Reward Card! This week's available Certified Inserts are – Odell Beckham Jr. and J.J. Watt.
Certified inserts can only be found in the Certified packs. The odds of pulling a Certified insert are 1:5 packs.