Turn of the Century Signatures
Josh Doctson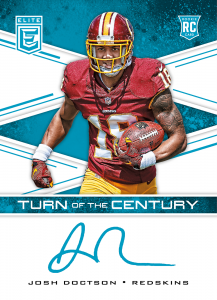 Turn of the Century Elite Signatures are now available in Gridiron! This set includes the top 10 rookies for the upcoming 2016 season. There will be two variations to collect: Teal and Gold. There will be two different ways collectors can chase the Teal signatures, but only one way to get the elusive Gold Signature!
Collectors can look for Teal signatures in the Teal Turn of the Century packs and have a 1:25 chance on average of pulling a Teal signature. Or, collectors can get the Turn of the Century Premium pack where you get BOTH the Teal and Gold signatures guaranteed in the pack!  Remember, Gold Signatures can only be found in the Premium pack. There is a limit of 1 Premium pack per account.
Once a new player is released, the previous player's Teal and Gold Signatures will be retired and no longer available in packs.
Today's Turn of the Century Signature is: Josh Doctson
Here is the Turn of the Century checklist and their release dates:
7/8 – Jared Goff (Sold Out: Teal – 333, Gold – 144)
7/11 – Michael Thomas (Sold Out: Teal – 211, Gold – 98)
7/14 – Paxton Lynch (Sold Out: Teal – 231, Gold -107)
7/17 – Will Fuller (Sold Out: Teal – 207, Gold -89)
7/20 – Corey Coleman (Sold Out:  Teal – 216, Gold – 117)
7/23 – Ezekiel Elliott (Sold Out:  Teal – 351, Gold – 182)
7/26 – Josh Doctson
7/29 – Laquon Treadwell
8/1 – Joey Bosa
8/4 – Derrick Henry
8/9 – Carson Wentz (REWARD)
By collecting all 10 Turn of the Century Signatures in a specific variant, collectors will receive a special Carson Wentz Turn of the Century Signature Reward card in that variant. For example, collecting all 10 Teal Signatures will get you the Carson Wentz Teal Signature.  Collectors will have until 8/8 11:59 pm EST to collect the set.