Gold Team
Odell Beckham Jr.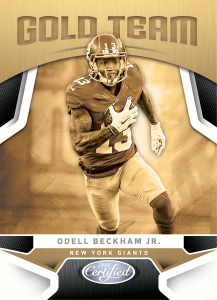 It's that time once again when athletes around the world dream of taking home the Gold. We're giving our Gridiron collectors a chance to bring home the Gold as well! Gold Team is our newest set and features 10 of the top NFL veterans and rookies. Gold Team inserts come in a base version and a premium Signature Edition! Over the next 10 weeks we will release one Gold Team and Gold Team Signature every Friday. Once a new Gold Team insert is released, the previous card will be retired.
The Gold Team set consists of the following players
Jameis Winston – SOLD OUT (Base – 488, Signature – 276)
Andrew Luck – SOLD OUT (Base –  668, Signature – 330)
Ezekiel Elliott – SOLD OUT (Base – 751, Signature – 413)
Aaron Rodgers – SOLD OUT (Base – 888, Signature – 553)
Jared Goff – SOLD OUT
Tom Brady – SOLD OUT
Russell Wilson – SOLD OUT
Carson Wentz – SOLD OUT
Odell Beckham Jr – AVAILABLE NOW!
Marcus Mariota
Today's Gold Team insert is: Odell Beckham Jr.
Gold Team inserts can only be found in the Gold Team and Gold Team Premium Packs. Odds of pulling a Gold Team insert in the Gold Team packs is 1:25 packs on average. Gold Team Signatures can only be found in the Gold Team Premium packs. The Gold Team Premium include one GUARANTEED Gold Team Signature Card PLUS the Gold Team base version. There will be no limit to the number of Premium Packs collectors can get.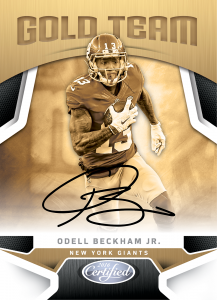 If you can collect all 10 Gold Team cards in a specific variant by 11:59pm on 10/14/16, you'll receive the Peyton Manning Gold Team Reward Card in the matching variant! For example, collecting all 10 Signature Gold Teams will reward you the Peyton Manning Signature Gold Team. Please note that there is only 1 Reward variant will be given per account.