New Gridiron Kings Available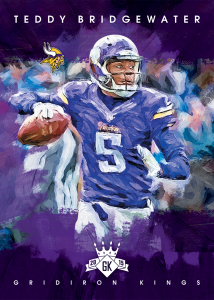 The two newest Gridiron King Inserts are now in Gridiron Kings packs. There are only 2000 of each artistic Gridiron King insert available. Each week, two new Gridiron Kings inserts will be released. There are 16 total cards in the Gridiron Kings set:
Chris Ivory
Ryan Tannehill
Demaryius Thomas
Philip Rivers
Aaron Rodgers
Jarvis Landry
Julian Edelman
Le'Veon Bell
T.Y. Hilton
Larry Fitzgerald
Richard Sherman
Arian Foster
Teddy Bridgewater
Carson Palmer
Devonta Freeman
Joe Flacco
By collecting all 16 cards, you'll also receive the Blake Bortles Gridiron Kings Reward Card!
This week's available Gridiron Kings Inserts are: Teddy Bridgewater and Carson Palmer
Gridiron Kings can only be found in the Gridiron Kings packs. The odds of pulling a Gridiron Kings insert are 1:10 packs.